2018 Yee Hong Annual Dragon Ball Raffle Winner
---
Congratulations to Dorothy Huang, Grand Prize winner of the 2018 Yee Hong Annual Dragon Ball Raffle. Dorothy is now the proud driver of a beautiful 2018 Audi A3 donated by Audi Uptown.
DFC Auto Group - Audi Uptown and Downtown Porsche - began donating cars as raffle prizes in 1994 - to express how important we consider the work of Yee Hong Senior Centres to be.
We would like to recognize Dr. Joseph Wong, Yee Hong's Centers Founder; Stephen Siu, President of the Yee Hong Foundation and his team of staff and volunteers who dedicate themselves to redefining the term "seniors care" by providing an unrivaled level of attention, respect and dignity for seniors at all of their centres.
This year's Grand Raffle is in support of the Yee Hong Residential Hospice Campaign. The aim is to raise $6 million dollars to develop a new facility where families, with the assistance of Yee Hong's professional caregivers, can spend meaningful time with their loved ones who need palliative care and are living with the challenges of a life-limiting illness.
---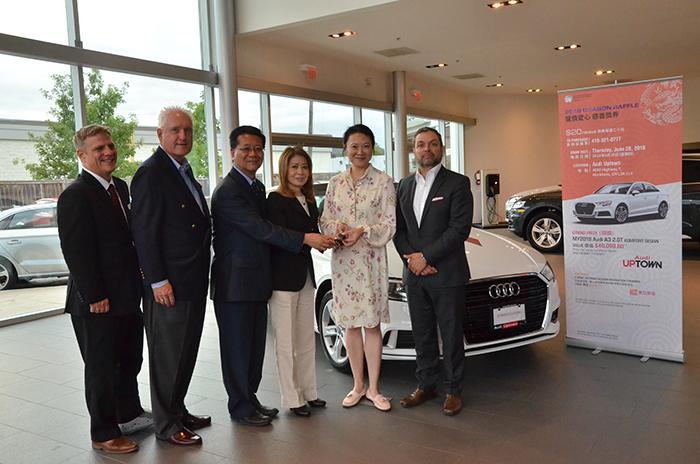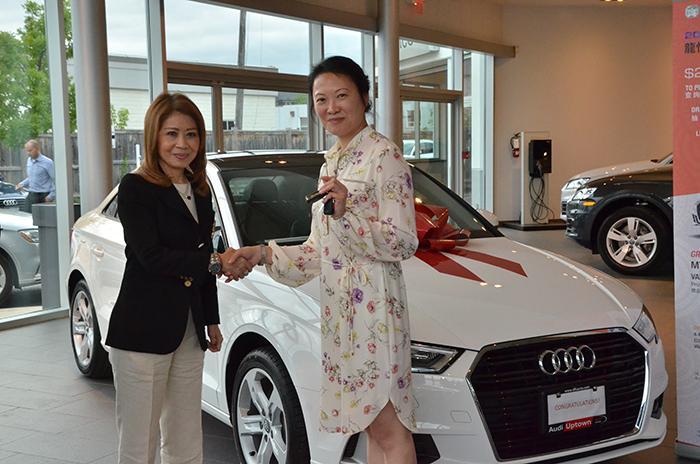 Presenting Dorothy with her new Audi A3 are: (in order from left to right);
Chris Johnson - Parts General Manager Audi Uptown
Don Hamilton - Ward 3 Councillor for the City of Markham
Dr. Joseph Wong - Yee Hong's Centers Founder
Helen Ching-Kircher - Dealer Principal, President & CEO of DFC Auto Group/Audi Uptown
Dorothy Huang - Winner of the 2018 Dragon Raffle Grand Prize a 2018 Audi A3
Fred Marmugi - General Manager for Audi Uptown
---