---
Offering You More Electric Vehicle Models Than Any Other Brand.
The Best Selection is at Audi Uptown.
At Audi Uptown, we put forward-thinking ideas first, which is why we plan to offer more fully electric models than any other brand by the end of 2021. Our electric vehicles are infused with the same Audi DNA that made us world renowned for performance and innovation—delivering superior performance, equipped with intelligent technology, and grounded by an advanced, electric quattro® all-wheel drive system. We are making electric driving practical—yet exhilarating.
All-Electic: Audi e-tron models
There is no purer form of luxury and performance than the Audi e-tron lineup. Harnessing the latest driving technology for day-to-day functionality without sacrificing performance, this lineup not only elevates your drive — it electrifies it.
The game-changer. The Audi e-tron was the first fully-electric SUV built with Audi DNA, and it keeps getting better. The 2021 Audi e-tron boasts an aerodynamically optimized body that not only turns heads, but it's also designed to optimize its efficiency. Its true spirit lies in its performance, with twin-electric motors capable of achieving the equivalent of 402 HP and 490 lb-ft torque with boost. No question—the Audi e-tron delivers an exhilarating experience behind the wheel.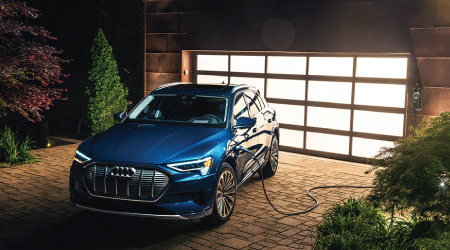 Max Horsepower (with boost engaged)
402 hp
Maximum tow rating when properly equipped with factory towing option. Vehicle load, other accessories and options may reduce maximum towing capacity. See vehicle's manual for details.
2021 Audi e-tron Sportback
The best of all worlds. The 2021 Audi e-tron Sportback features the spaciousness and functionality of an SUV, while sporting a sleek silhouette with its elegant, tapered roofline. Its performance is equally alluring, with Audi drive select allowing you to tailor your driving preferences by terrain, efficiency, or mood. Plus, with the latest technology throughout the cabin, the Audi e-tron Sportback offers an extraordinary drive.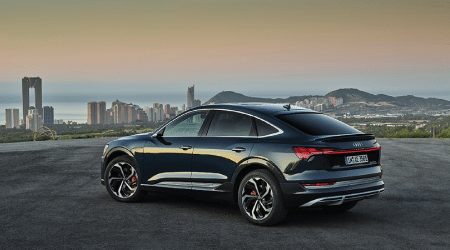 Max Horsepower (with boost engaged)
402 hp

2022 Audi e-tron GT and RS e-tron GT
The Audi e-tron GT and its RS counterpart are Audi's fully-electric homage to grand touring models, a heritage that is apparent throughout its design and performance. Sleek, flowing lines optimize the aerodynamics of the Audi e-tron GT, while launch control provides a boost of power up to 637 HP in RS trim. Inside, elements such as Dinamica® and leatherette-wrapped seats offer a sporty and chic environment that complements the electrifying performance.
Battery charge time in about
22.5 minutes
Battery charged from 5% to 80% at a public DC fast charger.
Power up to (with boost engaged for RS e-tron GT)
637 hp
with boost engaged for RS e-tron GT.
Equal parts performance and art. The Q4 e-tron boasts a bold, upright fascia that turns heads and optimizes performance. The optional Sonos Premium sound system is used for the first time in the Q4 e-tron. Ten high-performance speakers including a centre speaker and subwoofer ensure an impressive sounding experience. The brilliant reproduction of highs and lows as well as the rich bass raises the standard for the future of just enjoying your music on the road.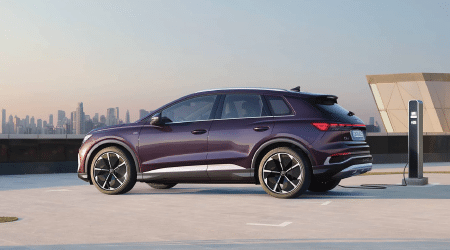 Storage space with rear seats folded down
1,460 Litres
Ushering in a host of new features, the Audi Q4 e-tron Sportback with available Matrix-design LED headlights will offer customizable daytime running light signatures. Drivers can select from one of four designs, the latest in lighting innovation that gives the Q4 e-tron an eye-catching presence on the road. The Q4 e-tron vehicles will also be the first Audi models to feature an available augmented reality head up display, seamlessly blending innovative tech into your driving experience.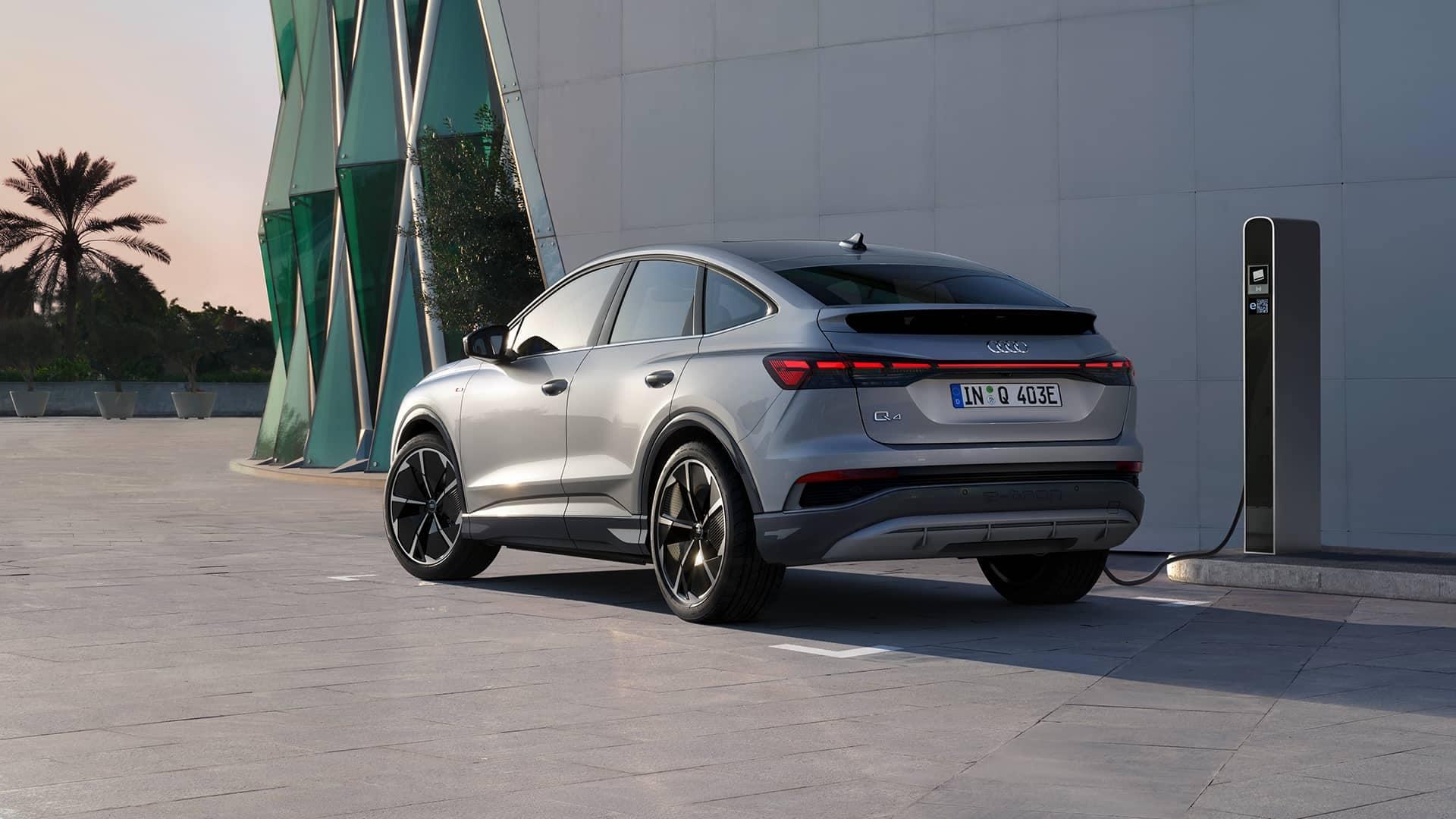 Plug-In Hybrid: Audi TFSI e models
Take your first step towards electric driving in an Audi TFSI e model. By combining an electric motor with a traditional engine and legendary quattro, this lineup is poised to deliver a driving experience unlike any other.
The Audi Q5 TFSI e masterfully delivers power—building on both its reputation for high-level performance as well as beautiful, flowing design. Combining an electric motor and gasoline engine, this plug-in hybrid SUV provides the performance you crave, with an output of 362 HP and capability of 0-100 km/h in 5 seconds—all while delivering exceptional efficiency.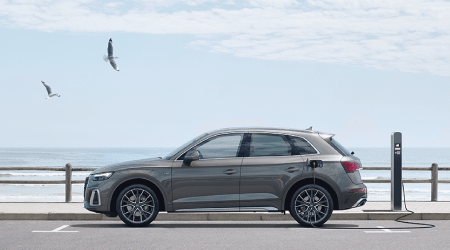 Horsepower
362 hp
Manufacturer estimated peak combined system output of horsepower and torque.
Hybrid battery capacity
14.1 kWh
The latest evolution of an icon. The 2021 Audi A7 TFSI e delivers performance equivalent to that of a larger displacement engine with 4-cylinder efficiency, thanks to its advanced hybrid powertrain. This plug-in hybrid electric variant also boasts standard S line exterior elements that enhance its already aggressive stance. Also specific to the PHEV model are unique modes for the MMI® touch response system and virtual cockpit displays.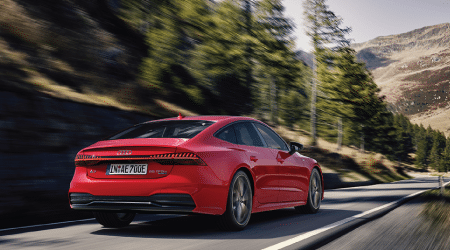 Horsepower
362 hp
Manufacturer estimated peak combined system output of horsepower and torque.
Hybrid battery capacity
14.1 kWh
Sophistication, meet intelligent efficiency. The 2021 Audi A8 exemplifies luxury and elegance, and is available as a plug-in hybrid electric model. The TFSI e powertrain offers the ability to select your drive mode — electric, fuel, or a combination of both — so that you can tailor the efficiency and performance for your needs. The PHEV variant of the A8 also sports its own unique features, including 19" 5-spoke design wheels, distinct exterior elements, and integrated LED signatures.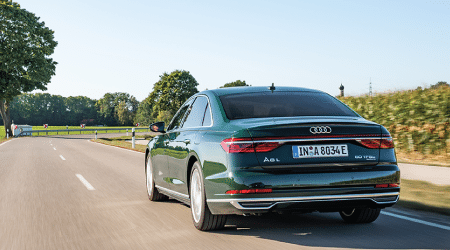 Horsepower
443 hp
Manufacturer estimated peak combined system output of horsepower and torque.
Hybrid battery capacity
14.1 kWh
Tell me more about the amazing Audi Uptown EV models